South Korean Leather Company Recognized by BMW for Sustainability

ATKO Planning is regenerating discarded shredded leather (left) into leather thread (right).
Global automaker BMW has sent a love call to a domestic startup that has developed an innovative resource-recycling material. ATKO Planning is the first company in the world to make sustainable recycled leather threads from waste leather.
According to the related industry on the 26th, six domestic startups including ATKO Planning will participate in the 'BMW Open Innovation Pitching Day @ Munich' to be held on June 29 in Munich, Germany. These are the companies that passed the final screening by the BMW head office jury among 10 companies that showed innovative technologies in a contest held last month by BMW Startup Garage Korea together with Korea Venture Investment and KOTRA.
ATKO Planning has been in the spotlight since Pitching Day. This is because ATKO Planning was the only company specializing in materials among participating companies. The BMW Headquarters' selection of ATKO Planning in the final evaluation is a stepping stone for ESG (environmental, social, and governance) management in mind.
It is reported that there is a high interest in ATKO Planning's innovative technology that can semi-permanently recycle leather, which will become waste after scrapping a car. ATKO Planning is scheduled to hold a meeting with the person in charge of the interior design department at BMW headquarters on Pitching Day in Germany.
The advantage of ATKO Planning's recycled leather thread is that it can be recycled like glass bottles as well as recycled leather. When producing and disposing of leather products (landfill/incineration), carbon emissions and environmental pollution are serious, and it is difficult to recycle due to various chemical treatments.
However, leather products made from ATKO Planning's recycled leather thread can be recycled back into leather thread. This is a sustainable virtuous cycle structure. It is for this reason that global apparel and sporting goods companies such as PVH, Nike, and Adidas previously selected ATKO Planning as their official vendor. "ESG is rapidly spreading in the automobile industry as well, because it is an industry that uses a lot of leather with serious carbon emissions," an ATKO Planning official said. will go," he said.
Meanwhile, BMW Startup Garage Korea has been discovering domestic startups that can help the BMW Group innovate through Pitching Day since 2018. The six Korean startups selected this year will visit the BMW Research and Innovation Center in Munich, Germany, and hold a company briefing session and booth exhibition. In addition, we will discuss whether to proceed with PoC (demonstration) for technology introduction with relevant business departments within the BMW Group.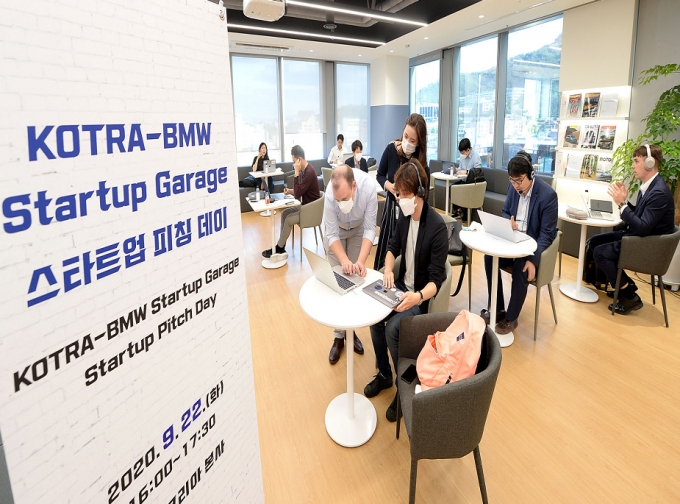 Startup Pitching Day held by BMW in Korea in 2020 (Photo courtesy of KOTRA)



Source: Kim Yoo-kyung from MT News (May 26, 2022)
https://news.mt.co.kr/mtview.php?no=2022052514244087597
Korean brides are sometimes proposed to after all the preparations for the wedding are done. Unlike the typical Western norms of marriage proposals, a proposal in Korea is more like a celebration of their union. Discover more about Korean proposals here!