From CES Newbie to Innovation Darling
In 1973, about 10 Korean companies, including Goldstar (now LG Electronics), Taihan Electric Wire, and Dongnam Electric, landed in the United States with radios and black-and-white TVs. This was to participate in the Consumer Electronics Show (CES), the world's largest consumer electronics and information technology exhibition, held in major cities in the United States since 1967.  Samsung Electronics opened its first exhibition in 1979. The Korean Pavilion opened at CES in 2000. 
At this year's CES, which was held offline for the first time in two years due to COVID-19, a Korean company emerged as the 'main character'. At booths of Korean companies such as Samsung Electronics, Hyundai Motors, and SK, there were long lines due to the number of visitors waiting to enter. 
The number of Korean companies participating in this year's CES was 502, the second-highest after the host country, the United States (1,300). Qualitatively, it has also grown to become a country with the most awards (139 times) at the CES Innovation Awards this year.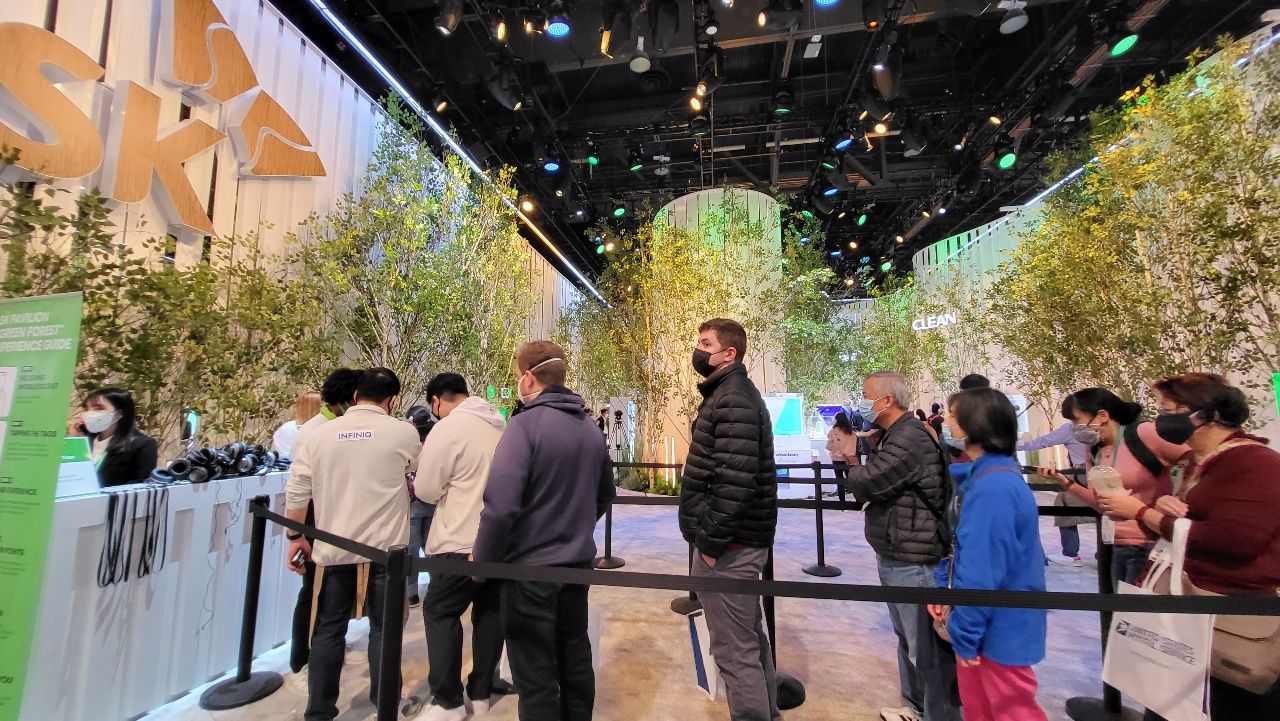 Visitors line up at the entrance of SK Group's booth at CES2022 in Las Vegas, USA. Reporter Kim Kyung-jin 

It is a scene that clearly shows the changed status of Korea in the global IT market. According to the Korea Economic Research Institute (Korea Economic Research Institute), the number of participating Korean companies more than doubled from 217 in 2018 to 502 in 2022. In contrast to the United States, which actually dropped to 1,300 from 1,744 participating companies.  China Dropped from 150 to 1551 participating companies. The number of startups also increased, and the proportion of startups among participating companies was higher in Korea (58.2%) than in the United States (57.2%) and Japan (52%). The number of innovation awards more than doubled from 65 in 2018 to 139 this year. 
However, it was found that Korean companies have room for improvement in new business areas such as artificial intelligence (AI) and robots. As a result of analyzing the technology trends for which Korea received the Innovation Award, smart devices (52.9%) accounted for more than half, and connectivity between devices (16.3%), AI/robots (11.1%), and environmental/social value/governance (ESG) 7.2%) was found to be low. 
Regarding the food sector, Kyu-seok Lee, Associate Research Fellow at Hankyung-yeon, said, "The small proportion of new industries directly related to future growth in the era of the Fourth Industrial Revolution is something that cannot be overlooked despite the achievements of Korean companies. There is a need to ease regulations on new industries in line with the speed of technological development and industrial reality," he emphasized. 
Meanwhile, as a result of analyzing the technologies and keywords that became a hot topic at CES from 2010 to this year, Hankyungyeon revealed that there are four global technology trends: smart devices, AI/robots, connectivity between devices, and ESG. Starting with computers (PCs), laptops, and smart TVs in the 2010s, smart devices have evolved into foldable tablets, smartphones, and means of transportation in the 2020s. 

Connectivity between devices has evolved from applications (apps), smart cars, and smart home/city technologies in the 2010s to platforms and ecosystems in the 2020s. In the field of AI and robots, which started from robots, it has evolved into drones and voice recognition home appliances, and as the ESG field emerged from 2016, social responsibility, personal information protection, and eco-friendly technologies were introduced. 
Source: Kim Kyung-Jin from the JoongAng (January 27, 2022)
Korean brides are sometimes proposed to after all the preparations for the wedding are done. Unlike the typical Western norms of marriage proposals, a proposal in Korea is more like a celebration of their union. Discover more about Korean proposals here!