AR Company 'Deep Pixel' Changes the Game in Wardrobe Fitting
What does Deep Pixel do? 
When you find your favorite accessories while shopping online, such as earrings, rings, bracelets, and watches, everyone must have had the experience of thinking, "The design is pretty, will it really suit me?" 
The augmented reality (AR) based service 'Style AR' of Deep Pixel, a virtual fitting solution company, solves this problem. Even in a non-face-to-face environment, it is possible to provide an experience as if wearing an accessory, increasing the purchase conversion rate, and significantly lowering the exchange/return rate. 
Usage is quite simple. Taking a watch fitting solution as an example, the user takes a picture of the wrist with a smartphone, selects the watch model they want, and checks how the watch is made with 2D images and 3D modeling is worn according to the size of the wrist.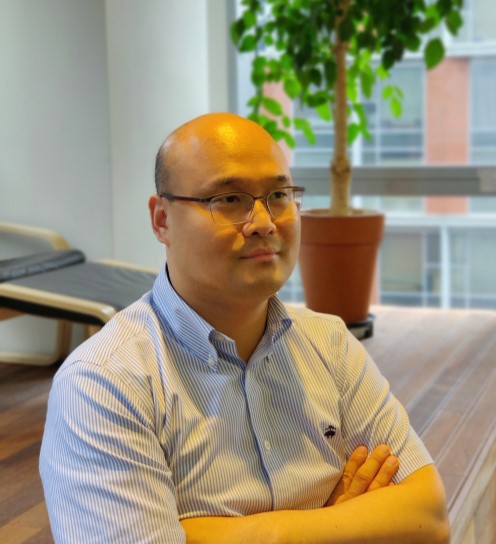 Lee Je-hoon, CEO of Deep Pixel
Success in Competition 
In this process, artificial intelligence (AI) recognizes and tracks the contours of body parts such as the face and hands, and calculates the location of body parts covered by hair, etc. Consumers can virtually wear the accessories they want using AR technology to estimate various information such as whether the product matches their face shape or skin color, and what size the product is. 
Lee Je-hoon, CEO of Deep Pixel, emphasized that the company's competitiveness comes from 'technology'. After obtaining a doctorate degree in computer vision-related research from Georgia Institute of Technology, USA, CEO Lee studied image processing algorithms at a large domestic research institute. He is also developing visual intelligence algorithms based on computer vision and machine learning techniques, even in deep pixels. 
CEO Lee said, "Deep Pixel has not only the field of detecting, tracking, and analyzing human faces and hands in real time, but also has software optimization technology that enables the technology to run quickly and efficiently in a mobile environment." In addition to precisely recognizing and tracking specific body parts, it can support virtual fitting of various product groups." 
The Journey Forward 
In recognition of this technology, Deep Pixel received the Innovation Award at CES (Consumer Electronics Show) 2022 held in Las Vegas, USA. Currently, about 90 companies such as Lotte Duty Free and Golden Dew have introduced and are using the Style AR service. The average daily use of the service is over 10,000. Since its launch in May 2020, the accumulated usage has exceeded 9 million times. 
Style AR can be easily downloaded by anyone from the 'Cafe 24 Store' operated by Cafe 24, a global e-commerce platform. CEO Lee said, "We decided to enter Cafe24 because it is the largest e-commerce platform in Korea used by many target customers." "When providing a solution, setting and development are technically easy, and the customer is satisfied with the easy process of applying the solution. are doing," he said. 
CEO Lee predicted that the demand for virtual fitting technology will continue to increase even after COVID-19. He said, "Introducing virtual fitting can provide consumers with convenience and a personalized shopping experience as well as the sanitary stability provided by non-face-to-face services. I think the future is bright," he said. The time will come when many fashion items can be worn virtually." 

Deep Pixel Style AR at Cafe24 Store 
Special Q&A with Deep Pixel CEO Lee Je-hoon 
You recently attracted investment in Series A, what value do you think Deep Pixel has been recognized for? Please introduce other patents, awards, and investment records as well.
"I think that the innovation of the existing commerce market through Style AR and the scalability of business based on AI source technology have been recognized. In addition to the CES2022 Innovation Award, Style AR won the Intelligent Startup Grand Prize at the 2021 Intelligence Awards and the Korea Electronics Exhibition Innovation Award in 2021." 


Why did you choose AR and virtual fitting?
"AR commerce is attracting attention as a next-generation shopping method. Here, it was determined that the original technology of Deep Pixel could be usefully utilized. We thought about how to provide a better shopping experience to consumers and analyzed that it would be extremely helpful if we applied virtual fitting technology to products such as jewelry where direct experience or personal taste is important." 


What is the goal of Deep Pixel?
"The goal is to innovate existing e-commerce through new and competitive AI and AR technologies and provide convenient and new experiences to consumers in the metaverse commerce environment."
Source: Baek Bong-sam from ZD Net
Korean brides are sometimes proposed to after all the preparations for the wedding are done. Unlike the typical Western norms of marriage proposals, a proposal in Korea is more like a celebration of their union. Discover more about Korean proposals here!